ABOUT THE STOOGEUM
The Stoogeum is the world's first and largest museum of Three Stooges memorabilia!
OUR MISSION
To collect, preserve and interpret historically or culturally significant pieces of Stoogeabilia in order to further the enjoyment and appreciation of the Three Stooges and to maintain the legacy of their comedy for future generations.
Containing close to 100,000 pieces of Stoogeabilia, the Stoogeum (rhymes with museum) offers fans a chance to view a vast array of artifacts which celebrate the legacy of this legendary comedy team. The 10,000 square-foot, 3-story building houses anything and everything Stooge. Artifacts from 1918 to the present are on exhibit, including several interactive displays. The Stoogeum also contains a research library, a 16MM film storage vault and an 85-seat theater used for film screenings, lectures and special presentations.
The Stoogeum is also the headquarters of the Three Stooges Fan Club, one of the nation's oldest and largest fan clubs with 2,000 members world-wide. An annual meeting of the fan club brings together Stooges relatives, supporting actors, impersonators and fans with the Stoogeum at the hub of the event.
The Stoogeum is located at 904 Sheble Lane, Ambler, PA 19002
Absolutely NO PHOTOGRAPHY of any kind is permitted inside of the Stoogeum!
See which Three Stooges supporting cast members, relatives, and other notables have visited the Stoogeum!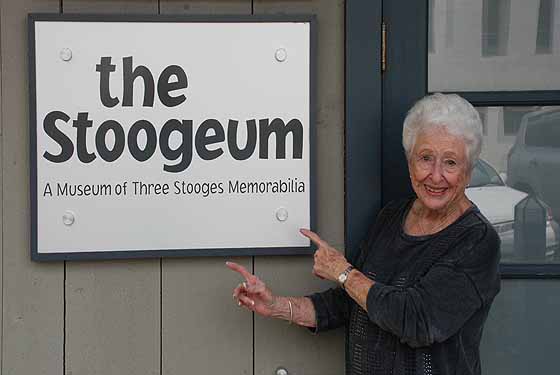 Betty Phares Metcalfe returned to the Stoogeum in May 2015. She appeared with the Stooges in Gents Without Cents.
Three Stooges actress Patricia Wright appeared in the 1952 short Cuckoo on a Choo Choo. She visited the Stoogeum in 2008.
Leonard Maltin, well-known film historian and Entertainment Tonight film critic, makes a visit to see The Stoogeum in 2007.
Former Playboy Playmate and Stooges supporting actress Marilyn Hanold appeared in the 1957 Stooge short Space Ship Sappy. She visited The Stoogeum in April 2010.
Our Gal Sal, Sally Starr, was a special guest at the Stoogeum in 2011.
Adrian Booth Brian (also known as Lorna Gray) co-starred in shorts like Three Sappy People and You Nazty Spy! visited the Stoogeum in 2011.
Miss USA 1959 Terry Huntingdon appeared in The Three Stooges Meet Hercules. She visited the Stoogeum in 2012.
Curly's daughter Marilyn Howard Ellman visited the Stoogeum in 2010.
Joe Kubert, the cartoonist who created the Three Stooges comic books in the 1950s, visited the Stoogeum in 2009.